Daniel Vega Díaz, Telecommunications Engineer, Master in City and Urban Planning, and Postgraduate in Smart Cities.
He has also been a developer of ITU and UNE (CTN178) standards on Smart Cities and Secretary of the Smart Rural Territories Working Group in the SEAD on behalf of the College of Telecommunications Engineers (COIT).
He currently holds the position of Head of the Digital Public Services Area, Smart Cities and Innovation, and secretary of the Spanish Network of Smart Cities (RECI), whose objective is to exchange experiences and work together to develop a sustainable management model and improve the quality of life of citizens, focusing on aspects such as energy saving, sustainable mobility, e-Government, attention to people and security.
The Spanish Network of Smart Cities (RECI) was created with the commitment to create an open network to promote the economic, social and business progress of cities. What has "digitalisation" meant for Spanish cities as a whole in terms of tourism? Does it affect them all equally, or is it a question of size?
We could say that digitalisation represents a paradigm shift for the tourism sector, as in so many others. It offers the opportunity to improve destination management processes, improve the visitor experience and promotion, although we can say that we have already been in this process for several years. For example, having a good social media presence strategy is no longer an option, it is taken for granted. Nowadays you have to be up to date with digital marketing and have attractive, up-to-date and interactive websites or mobile apps. Once at the destination, the experience can be enhanced for example with Augmented Reality (AR), installing interactive tourist information systems or having online communication devices to answer visitors' questions in real time. Therefore, we can affirm from RECI that the digitalisation of the tourism sector is key to continue attracting tourists who are increasingly hyper-connected and with stays of greater added value.
In terms of size, digitalisation affects all municipalities, but size will affect their ability to adopt and take advantage of existing technologies. However, they can all benefit from it to promote their tourism, manage it more efficiently and improve the visitor experience. It is true that local councils play a key role in providing services to small and medium-sized cities. That is why we created in RECI a group of friendly municipalities to favour Digital Transformation regardless of population size.
What does this sector need in terms of digital development, energy efficiency and digitisation in municipalities and provinces?
The tourism sector needs continuous investment to remain competitive, bearing in mind that we are increasingly better connected and the competition is growing and more prepared. It must be said that the tourism sector in Spain is growing, and that things are being done well; every year we are recovering the number of tourists that Spain had before the pandemic. The latest studies of the sector cite that we have now recovered pre-pandemic levels of foreign tourists and international tourist spending has broken records. However, we have some challenges ahead of us, such as the conservation of historical heritage, public-private collaboration, energy efficiency and being more efficient with technology: making better use of the data we have and implementing a good digitalisation strategy, as I mentioned before.
On the other hand, the main challenge facing the sector in Spain is that of sustainability. More than quantity, we have to seek quality tourism that is sustainable in the long term, because Spain has all the conditions to be a world power in this sector. Within the Mission Cities that aims to achieve climate neutrality in 100 European cities by 2030 by and for the citizens, 7 Spanish cities were chosen. These will be a perfect example to follow and from RECI we will try to make it happen, and we will focus on the tourism sector within this ambitious European plan.
For example, cities such as Barcelona or Madrid are implementing sustainable public transport systems (electric buses, shared bicycles, electric scooters, etc.). Rural tourism and ecotourism activities are also being promoted, which favours responsible tourism and respects the environment and the local community.
What are RECI's main objectives in relation to the digitalisation of the tourism sector?
The main objectives are to articulate and promote projects and initiatives that promote digitalisation in the tourism sector among the different member municipalities and town councils. There is an alliance with the Smart Destinations Network (DTI Network), which is spearheading digitalisation in destinations, with the aim of extending all initiatives within the sector throughout Spain.
It is important to mention the objective of achieving adequate standardisation. RECI is part of the standardisation process carried out by both networks from the Smart Cities Technical Standardisation Committee 178, specifically in Subcommittee 5 on Smart Destinations.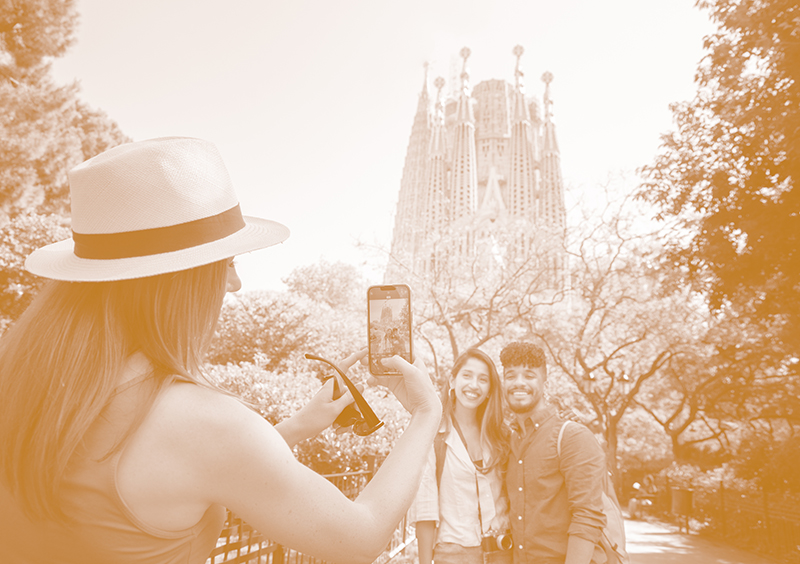 And what projects or tools are being implemented and used to achieve these objectives, and which ones would you highlight?
I would highlight the presentation of the future call for grants for the deployment of technological platforms and digital solutions in the destinations of the DTI Network. The RECI municipalities are applying jointly to this call, in order to obtain greater synergies and advantages for all.
Specifically, the Intelligent Destination Platform, of which RECI is part of its promoting body, is the provision of shared services that incorporate a collection of digital solutions to manage the main problems, challenges and opportunities for improvement, both digital and physical, throughout the tourist's cycle of stay. Given the complexity and diversity of the national tourism ecosystem and market, it is necessary to adapt the IDP to the specific needs of the different tourism market segments and niches. This is a great opportunity for all Spanish destinations.
And we expect that the creation of the national tourism data space that would accompany the platform would be a necessary step within the sector. The future tourism data space would be at the heart of the transition towards greater sustainability and deep digitisation in the sector.
RECI has an organisation divided into 3 working groups, what can you tell us about them with regard to the modernisation of the tourism sector?
Indeed, we have 3 working groups that address a wide variety of challenges, all of them related to the implementation of technology to achieve new smart solutions. In addition, we have cross-cutting working groups that affect issues such as the one you mentioned on the modernisation of the tourism sector. For example, as we have mentioned before, we act as a network in the presentation to calls for proposals of the PRTR programme, which positively value synergies between local entities. RECI is made up of 144 entities which, acting as a network, are much stronger than individually. Within Group 1: Government, Social Innovation and Smart Economy is where we work in the Smart Tourism sector, with Palma and Benidorm among the coordinating cities for this purpose.
The Smart Tourism working subgroup is the best forum for the exchange of experiences and knowledge between RECI member cities. They are also an incentive for the technical staff of the various local entities interested in this area, because they find references and technical solutions to specific problems that they must manage in their day-to-day work at the destinations. In this way, the working groups act as a driving force for the network in terms of generating and disseminating knowledge in relation to the process of digitisation of tourism.
What are RECI's strategies for the implementation of the 2030 Agenda and the Sustainable Development Goals (SDGs)?
RECI's activity has a direct impact on several SDGs: health and well-being (3), affordable and clean energy (7), industry, innovation and infrastructure (9), sustainable cities and communities (11), responsible production and consumption (12), climate action (13) and partnership to achieve the goals (17). Through the working groups we seek to implement solutions that make our cities more sustainable, which improves the quality of life of citizens. In addition, our networking creates alliances that improving the governance of local authoritiesmaking them more transparent.
One of our objectives is to promote the automatic and efficient management of urban infrastructures and services, as well as the improvement of the quality of services, thereby attracting economic activity and generating progress. We follow the progress of the Mission of Cities to help all Local Bodies become sustainable and smart. Our goal is to make life easier for citizens, achieving a more cohesive and caring society, generating and attracting human talent and creating a new economic fabric with high added value from a sustainability perspective.
What is the role of city networks in this digitisation process, including DTI networks?
City networks play an important role in the adoption of technology and the promotion of sustainability. In these cases, they facilitate the exchange of ideas through repositories of good practices, they jointly present projects, which improves the quality of the projects themselves and makes it easier to obtain European grants, and they also have a direct impact on the formulation of policies at regional and national level with respect to tourism, as they represent the majority of the Spanish population. From RECI we believe that we are at the moment of creating a Network of Networks and therefore our cooperation with the DTI Network is very important as we are pursuing the same objective within the Tourism sector.
And finally, what projects and future plans does the Spanish Network of Smart Cities have to continue promoting digitalisation in the tourism sector? ????
As mentioned above, within our Working Group 1, we will continue to develop new lines of activity leading to the realisation of Smart Tourism projects and seminars.
I would like to recall and emphasise that RECI is supporting the PID platform within its Promoting Body, it is a country project that requires our collaboration. From the beginning, we have supported studies such as the status of the city platforms, or the edition of the SC5 regulation of the CTN178.
The main objective of this future platform is to accelerate the digital transition of tourist destinations while activating a connected ecosystem at national level. The Country Platform will serve as a support to promote the greatest possible interoperability between different systems and, consequently, sufficient knowledge for Spanish tourism to enter a new competitive phase based on data management.
RECI will try to help its partners to be part of the Platform, as well as to be able to take advantage of all the developments made by our partners. One of our challenges as a network is to try to speed up the digitisation process, being the channel through which we can learn from the mistakes made, and we can implement previously developed, tested and in production developments in all the destinations that wish to do so.