The accelerated digital explosion in which we have been immersed in recent years has made it possible to apply advanced techniques based on data in almost all of a company's processes. In this way, Data Engineering and Data Science have gradually crept into the definition, execution and implementation of new business applications, starting with the technical areas of operation, manufacturing or logistics, extending to the commercial areas of customer management, billing, marketing or customer service, and finally embracing the more organisational areas of the company such as accounting, finance, purchasing or corporate strategy itself.
In this way, the more traditional GIS has been able to evolve towards true geographic intelligence. The key to this evolution lies in the generation of living systems that integrate heterogeneous capabilities by dynamically adapting them as if they were LEGO pieces. Only in this way is today's GIS capable of consuming and exploiting data streams from APIs and IoT sensors, navigating large lakes of data, shaping large point clouds from different technologies such as the LiDARElliot's goal has always been to bring this new GIS geographic intelligence paradigm to people and businesses in a simple way, without the need to deal with the enormous complexity that makes it possible. This has been Elliot's goal from the beginning: to bring this new paradigm of GIS geographic intelligence to people and companies in a simple way, without having to deal with the enormous complexity that makes it possible.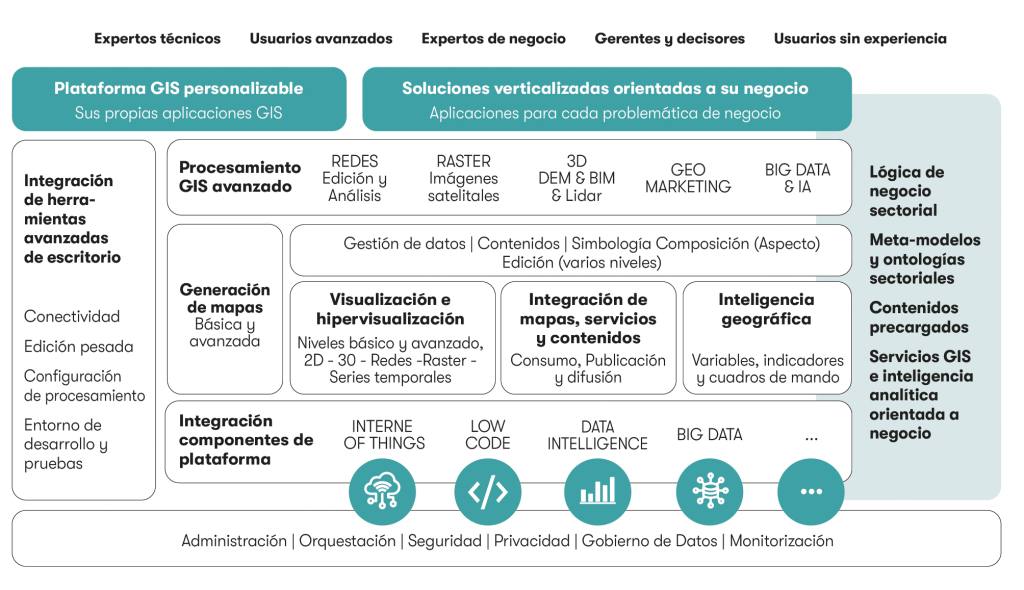 Democratising geographic intelligence
Those of us who have worked in the GIS world over the last two decades still believe that these systems have not yet reached their full potential. Our obsession has always been to place the geographic component on the same level as its first cousin, the temporal component. That is why we cannot conceive of a correct decision process without taking into consideration the associated location of the data in its full extent. Failure to adequately take into account the absolute location or relative position between assets, elements or events, or simply to separate the analysis processes according to the nature of the data, whether alphanumeric or geographic, represents a considerable reduction in the representativeness of the business intelligence and knowledge generation processes that should be the basis of efficient decision-making processes.
Not taking the geographic component into account is a considerable drain on companies' intelligence creation and decision-making process," he said.
The GIS approach offered by Elliot is based on the premise of bringing this technology to its rightful place. Elliot GIS acts as a gateway to services, content and functionalities exposed in an integrated platform that harnesses the full power of Elliot solutions based on low code, IoT, Big Data and data analytics. Thus, with the vocation of playing a crucial role as the backbone between the different key business processes of a company, Elliot GIS provides a growing range of modular solutions conveniently verticalised by sector and industry.
We created Elliot GIS, an integrated platform
Through a simple user interface, Elliot GIS offers different solutions that encapsulate in equal parts the data models, services and applications necessary to solve the problems of companies around the consultation, visualisation, management and integration of their geographic data applied to the operation, monitoring and expert analysis of their business processes. These solutions also provide business knowledge in the form of adaptable metamodels and expert digital services that combine the power of GIS with the rest of the high-value alphanumeric components such as IoT or data analytics.
Operation-oriented solutions take advantage of assisted management of 2D geographic data generation, lightweight editing, rich visualisation, and remote connectivity and actuation.
by means of real-time systems. In this area we find solutions for the sustainable management of urban irrigation, assisted management of supply networks or assisted management of urban services such as lighting, asset management or maintenance work.
The monitoring-oriented solutions take advantage of the geographic intelligence capabilities of Raster analysis, geopositioning and hyper visualisation in the service of a powerful integration with time series, a weak point in the GIS systems and online map services currently available on the market. Elliot GIS provides solutions that meet the needs of sectors with a clear demand for reactive alerts to changes, not only in the states or conditions of their assets or elements, but also dependent on their location. The operation and maintenance of public services, logistics or monitoring in Industry 4.0 are good examples of this.
Where our GIS platform can bring the most value to your customers is through its extensive analysis capabilities.
In a first stage of analysis, Elliot GIS covers from the most basic needs for the consumption of reports or dashboards to obtain a description of the operational situation to the tools necessary to execute expert diagnoses of what has happened that can be integrated into future planning or action plans. At this point, we have the capacity to integrate with models or simulators such as, for example, the hydraulic modelling applied to the water sector.
Elliot GIS is a versatile, simple, adaptable and integrated platform with a state-of-the-art ecosystem of expert technologies that bring the full power of IoT, Artificial Intelligence and Big Data?
In a second stage of analysis, the platform connects with expert analytical systems to provide customers with expert prediction and prescription services based on the combination of data sources with special emphasis on the geographic component, as well as the possibility of creating their own services by combining Elliot GIS modules and components.
It should be noted that the platform is complemented with a desktop GIS system programme to which the necessary modules and components have been incorporated for perfect integration and connectivity with Elliot GIS. With this we manage to cover almost all the interaction needs in map or GIS format, from the simplest and lightest accessible in online or mobile environments to the most powerful or demanding of complex resources that, from experience, are recommended to be executed in local work environments.
Elliot GIS: Excellence makes us different
The Elliot GIS platform is a young solution, but with a vocation to meet the needs of clients who increasingly demand simple tools that can be adapted to their own reality, without sacrificing maximum functionality and value by integrating GIS systems with the power of current technologies. Our advantage over other similar solutions on the market lies in the fact that, since its inception, Elliot GIS integrates these objectives into its DNA. From open source technologies, we have been able to design and develop a platform that delivers value to our customers through concrete solutions that respond to specific problems. This makes customisation as easy as possible, maximising the speed of adoption and avoiding the need for customers to become experts in order to get the most out of the platform.
We are aware that our more versatile, simple, adaptable and integrated GIS platform with the latest generation ecosystem of expert technologies is a paradigm shift in the way companies have been consuming and integrating maps into their processes. But this is the trend of what is coming, true integrated geographic intelligence. At Elliot, we help companies make the transition to the next level of GIS naturally, without surprises or headaches. Because that, like excellence, is also in our DNA.