Industries are currently facing unprecedented climate challenges, and it is crucial that they reduce their impact on the environment and the health of the planet. With this in mind, the EFIM-Food project proposes a solution for food processing industries to bring circularity to these industries.
Elliot Cloud is participating in this project, which ends this April, seeking to improve the sustainability of the food industry through the use of advanced technologies, such as the Internet of Things (IoT) and life cycle analysis (LCA) tools.
An initiative of KYKLOS 4.0
The project is part of the initiative KYKLOS 4.0The aim of this European project is to show the transformative effects that various new technologies such as Artificial Intelligence, LCA, PLM (Product Life Management) or CPS (Circular Production System) can have in the framework of circular manufacturing and, therefore, in the efficient consumption of energy, water and raw materials, and the reduction of emissions.
For this development, Elliot Cloud has the collaboration of the company Vega Pelayoa family business dedicated to the artisanal manufacture of traditional baked goods from Cantabria. Specifically, a monitoring of the manufacturing process of the well-known "Sobaos Pasiegos" has been carried out, obtaining energy consumption data in real time, visualised through the Elliot Cloud software platform. In this way, the aim is to measure the efficiency of the process in order to optimise manufacturing and reduce costs and emissions.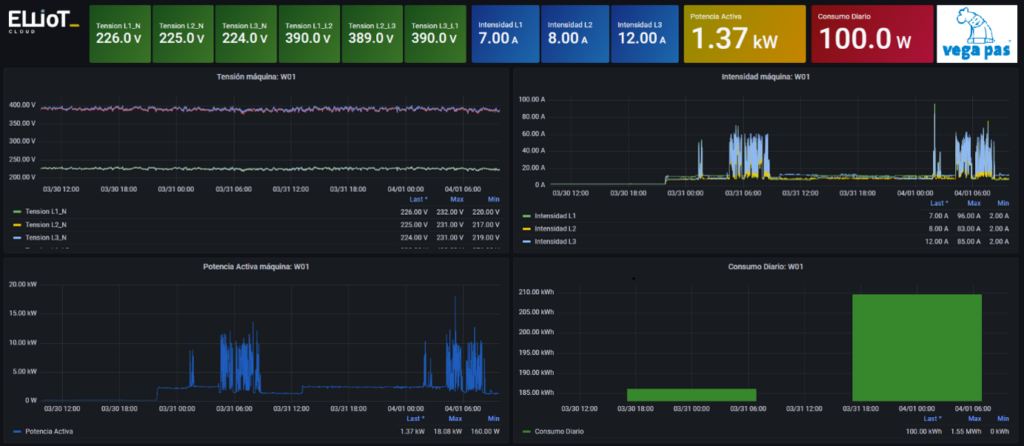 Finally, in addition to the deployment and connection of sensors, work is being carried out on the integration of the life cycle analysis module, developed by KYKLOS4.0, which will enable monitoring of life cycle indicators to improve the sustainability of the process and reduce the impact on the environment. The implementation of this module in the platform will favour its application in other companies in the sector interested in implementing a circular economy.

The EFIM-Food project has received indirect funding from the European Union's Horizon 2020 programme for research and innovation, through the KYKLOS 4.0 Open Call # 1 issued and implemented by the KYKLOS4.0 project (Grant Agreement no. 872570).